International Marketing Theory
A New "SWOT" for Globalization
Understand the threats, opportunities and influence of location on your company's globalization strategy
IMS' comprehensive solutions aggregate a complete range of products and services necessary for businesses to succeed internationally. Our core expertise involves sourcing, export promotion, joint venture development, and marketing campaign design (multimedia, print, etc.). We work closely with translation partners, distributors and other players to combine and manage additional services ranging from translation to shipping.
IMS' client engagements are as varied as the clients and industries we work with. Individual capabilities such as our marketing creativity or distributor networks can be applied to fit gaps in client's globalization strategy. Alternatively, we can handle all steps of globalization with a "Total Solution" that involves research, planning, implementing a strategy and supporting it through our local offices.
Whether you seek, geographic diversification, cutting costs of materials and parts, or locating untapped, profitable markets, IMS can assist you with one or all aspects of your strategy.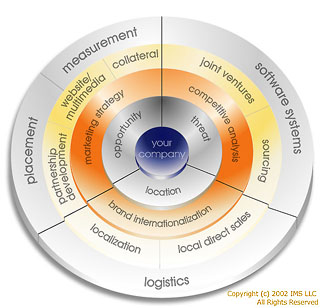 Click here to enlarge.