Manage Threats
Know the Neighborhood: Competitive analysis
Competitors' prices, marketing activity, partnerships, expansion plans, customers' opinions and product quality are essential to understanding how and where your company should compete. Equally important is awareness of past industry-specific strategies that have succeeded or failed in a given target market.
Utilizing on-the-ground staff, local news sources and conversation with industry players, IMS is uniquely positioned to conduct competitive research on your behalf in foreign markets. Our focus and staff experience in this regard stays firmly fixed on obtaining information relative to international marketing and globalization.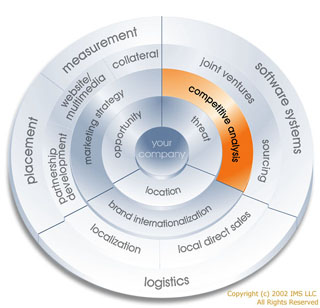 Stay Competitive: Sourcing and Joint Ventures
Trade liberalization and global expansion have introduced a new generation of quality yet low priced substitute parts, components and manufactured goods into developed markets, undercutting established manufacturers position. At the same time, developed markets have experienced growing competition as well-funded corporations enter the market with extensive resources, allowing them to rapidly gain market share with new, better quality production, massive marketing campaigns and aggressive acquisitions.
Managing these globalization threats involves the same general strategy regardless of location: active, aggressive location and development of new opportunities in the form of joint venture, suppliers, or true partnerships between complimentary firms.
IMS has extensive experience in identifying sourcing opportunities for medium, large and Fortune 500 manufacturing companies in developed markets. At the same time, IMS has worked closely with companies in developing or transitional economies to locate new sources of investment, technology or joint venture partners that can improve product quality and fortify those companies market position. IMS has developed over a dozens successful joint ventures with a wide range of companies, from a major Russian energy conglomerate to several Central European manufacturers.
While we work with firms in many industries, recent successes have occurred in transportation, oil and gas, construction, household goods, and biomedical industries.
North America and Western Europe
IMS can assist you locate reliable, high quality, inexpensive sources of components, parts, complete products or "eased" production.
Central and Eastern Europe
IMS has developed a range of successful joint ventures between western companies and Czech, Slovak, Polish, Russian and other countries' manufacturers. Please contact us to discuss your products and needs.
Other Regions
IMS works with numerous partner firms focused partnership development in the Pacific Rim and South Asia. We encourage you to contact us to discuss how we may assist you in North America, Europe, or possibly refer you to appropriate experts.
Cut Costs: Improved Software Systems
To improve costs further, IMS can help you seamlessly integrate with your sourcing partners, your suppliers, and your customers. Through various partnerships and its own experience, IMS can help your company integrate CRM, Project Management, Intranet, and ERP solutions to improve your company's efficiency.
IMS provides its clients with tools to easily create and manage content for their web presences, sell products and offerings through our ecommerce solutions, and integrate with third party supply chain software with our expertise in XML and industry standard schemas.