Location
Culture and traditions: Brand Internationalization
In close collaboration with our translation and localization partners, IMS works with andcompanies adjust or even redefine their brand to address international cultural and business conditions. A global team of designers, business analysts and translators collaborate to transpose existing concepts, symbols, colors, tag-lines and marketing copy into local variants that have the same impact in the target language and culture as in the original.
Being there: Localization and Local Presence
To sell abroad, you will need two things, above all: localized marketing materials and the necessary local sales force to handle inquiries. We have the ability to translate your marketing materials to virtually any written language. In addition, IMS can do this inexpensively as we have developed proprietary content routing tools that automatically route content to the appropriate translators when an asset is in need of localization.
Localized materials coupled with a presence to handle the inquiries that result is all you need to jump start your presence in virtually any market. IMS can allocate a portion of its local sales force time to selling your products. For example, our sales team in Moscow, Russia is currently selling US made headsets, eye and ear safety equipment to various local distributors and our team in Bratislava assists in sourcing industrial blades, gearboxes and other products on behalf of US customers.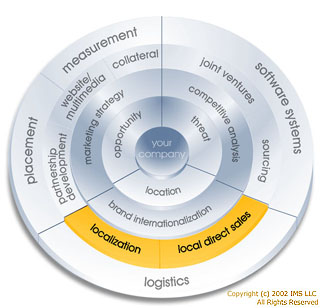 Getting There: Sales support & Logistics
When sales are transacted, you will need a company with experience for getting your product to its destination. IMS has been importing and exporting products for the past 2 decades and has expertise in custom laws and procedures, quality certification, and many types of shipping procedures.
In addition, many companies abroad prefer to deal with a local company and our local sales team can further coordinate transactions so that all parties feel comfortable doing business with each other.