Fuel Cell Membranes
IMS: International Marketing Services
IMS is partnered with a US manufacturer of fuel cell membranes that has developed a unique design and manufacturing process for polymer electrolyte membrane electrode assemblies (MEAs) used in hydrogen fuel cell applications. Utilizing over 40 years of experience in working with Dupont's NAFION® membrane, IMS is able to offer a process that delivers low resistance, durable and consistently high performing MEAs for PEM fuel cell applications. The product line of membrane electrode assemblies offers the following advantages.
HIGH POWER DENSITY
Ultra-thin (<30 micron) unreinforced NAFION® containing membranes result in high power density, low resistance structures.
MOST COST EFFECTIVE
Membrane where you need it, not where you don't.
MOST DURABLE
N-111-IP tested by General Motors to be the longest lasting commercially available fuel cell membrane. IMS offers an MEA manufacturing line that utilizes state-of-the-art continuous roll-roll coating operations that are set up to handle the prototype and high-volume production requirements of today's growing PEM fuel cell industry. So whether you need one or thousands of catalyst coated membranes for hydrogen fuel cells or water electrolyzers, contact IMS to discover how your application can be "turned on" by catalyzed membranes.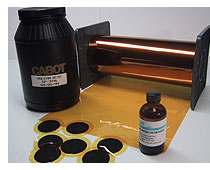 Catalyzed Coated Membranes offer the following advantages:
20 to 30 micron thick membrane component for high power density
Membrane component containing the stable NAFION® ionomer resulting in long component life
Unique fabrication method allows the perimeter area (outside of the active region) to be substituted with a strong material for sealing integrity, durability, and reduced cost.

To review data related to our CCM stability and performance please review the following graphs:





The Leader in Membrane Lifetime

Homogeneous Membranes


DuPont™ NR-111, -25Ám, 1100EW NAFION®
N-111-IP, -25Ám

Composite Membranes
Humidity cycling accelerates mechanical failures in the absence of electrochemical degradation



HYDRion™ Products

Catalyzed membranes for Water Electrolysis applications based on NAFION® membranes. In addition to manufacturing Catalyzed Coated Membranes for fuel cells IMS's Partner is engaged in the production of catalyzed membranes for use in the electrolysis of water. These materials are used for laboratory gas generators and hydrogen injection systems for internal combustion engines. For a quote on a custom designed electrolyzer CCM please submit a product inquiry.




LIQUION™ Products

LIQUION™ is a dispersion of NAFION® in a mixture of water and alcohols. This product is manufactured by IMS's Partner from NAFION® polymer. LIQUION™ is available in 5% by weight solids and 15% by weight solids, low and high equivalent weight (EW) polymer. Available LIQUION™ products are:

LQ-1105 5% by weight NAFION®, 1100 EW
LQ-1115 15% by weight NAFION®, 1100 EW
LQ-1005 5% by weight NAFION®, 1000 EW
LQ-1015 15% by weight NAFION®, 1000 EW

For more details and pricing on these products please submit a product inquiry.




NAFION® Products

NAFION® is a registered trademark of E.I. DuPont de Nemours brand of perfluorosulfonic acid/TFE copolymer. NAFION® polymer has excellent chemical stability (similar to TEFLON®) while at the same time allowing ion transport. These properties have led to interest in the use of NAFION® polymer for various electrochemical applications from industrial chloralkali cells to fuel cells. For more details and pricing on these products please submit a product inquiry.

DuPont™ NAFION® products are available in various forms:

Pellets

Non-Reinforced Films

Cast Films

Fabric Reinforced Membranes

Polymer Dispersions